First Call Locating, Inc. is owned and operated by Russ LeGault. Firstly, we are based in Monroe, NC and have been locating underground utility lines for over 15 years.
Furthermore, at First Call Locating we take our job and our responsibility to you, our customer, very seriously. Most importantly, it is our job to keep you safe and protect you from injury as well as financial liability. In addition, our highly trained crews are fast, efficient and professional.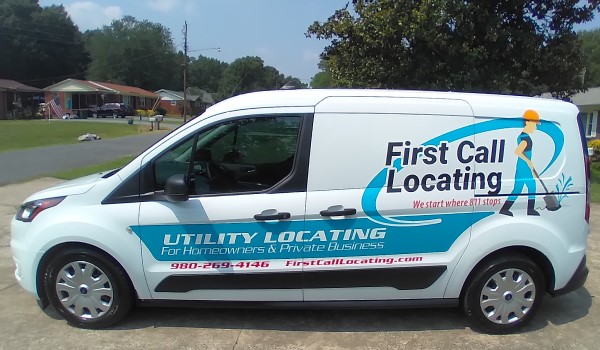 First Call Locating, Inc.
First Call Locating, Inc. is a private, locally owned and operated business. In addition, we are based in Monroe, NC and specialize in identifying and locating underground utilities. Furthermore, we locate utilities for the homeowner and private business that are not covered by NC811. 
Services We Cover
Most importantly, we start where 811 stops. To sum up, our service includes Gas, Water, Communication, Electric, Waste Water, Fiber Optic, Telephone, Unknown Conduit, Sprinkler Valves and Water leak detection. In addition, private utility service involves a variety of techniques and equipment. And this includes Electromagnetic and more.
Experienced And Professional
At First Call Locating, our approach to utility locating is based on 15 years of field experience. And we are professional, customer oriented, focused on proper utility locating practices. Also, we emphasize attention to detail, quality, and safety to you. In addition, secure  financial liability while protecting the customer's infrastructure.
Public vs. Private
First Call Locating Is your first call after NC811. "We start where 811 Stops"
Finally, the law requires you to call 811 and have your public utilities marked before you dig. However, public utility companies will only locate the facilities they own (utilities that run meter to main like electric, gas, oil, telephone, and water). So we mark the underground utilities and structures 811 does not.
We Service
Homeowners
Plumbers
Electricians
Environmental firms
Surveyors
Home Inspectors
Engineering Firms
Realtors
Property Management Co.
Schools
Hotels
Restaurants
We Locate
Water Leak Detection
Water Lines
Sewer Lines
Telephone/fiber
Power Cables
Gas Lines
Unknown conduit pipe
Storm Drain
Ground Fault Detection
Sprinkler Valves
Lighting